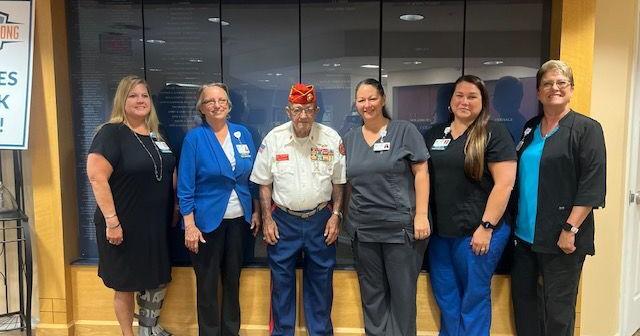 A generous donation | Local News
CHIEFLAND — The Tri-Counties Hospice Care Center in Chiefland recently received a generous donation from a veteran.
Harvey Hampton, who is a member of Tri-County Marine Corps League Det #1018, presented a check for $20,000 to the care center on Monday. According to Hampton, the funds – $40,000 in total – came from the Marine Corps League, and they acquired the money after selling "a few buildings" they owned in Old Town.
Hampton said he decided to donate the money to Haven Hospice because of the care they showed for his Marine brothers who were at the care center. Two of the five men Hampton knew were Vince Arcadia and Mike Harold.
In addition to Haven Hospice, the money will also go to St. Jude Children's Research Hospital. Hampton said he's not sure how much will go to the hospital at this time.
Jennifer Johnson, who is secretary at the Tri-Counties Hospice Care Center, said the $20,000 would greatly help home care and residents. Some examples are: buying window air conditioners, groceries that the family or caregiver may need, and making a wish come true. Additionally, the money would help the residents of the facility in times of need. Haven Hospice could help them fill it.
Johnson and the rest of the administration were excited and grateful for the contribution.