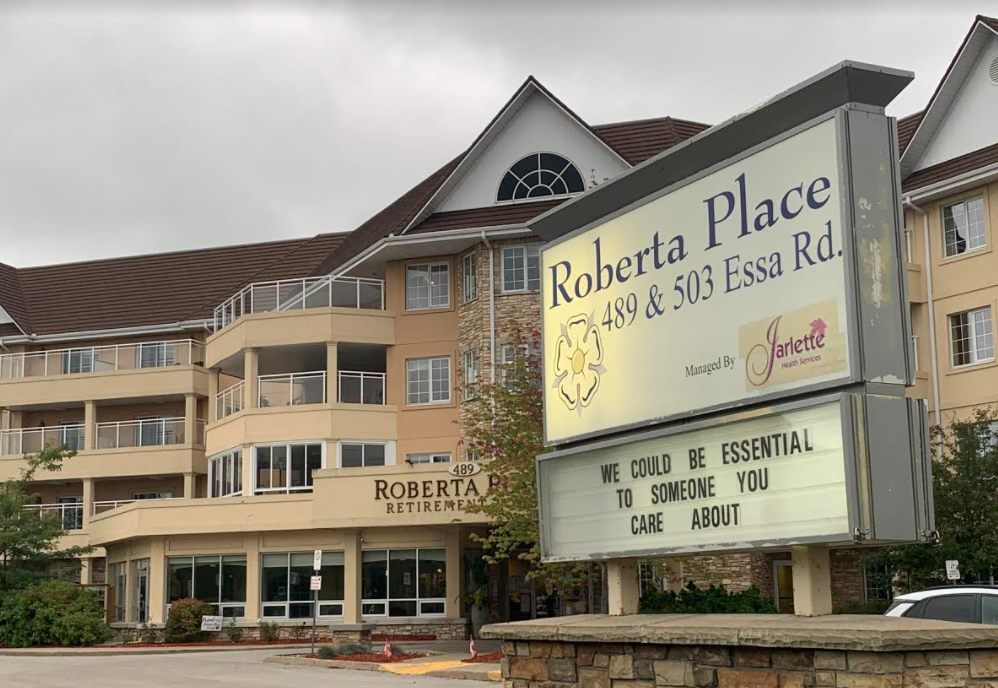 A year ago today a deadly epidemic in Roberta Place began
'Very sad' COVID outbreak in Barrie long-term care home lasted 41 days and ultimately claimed 71 lives, officials say
A year ago today, a COVID-19 outbreak began at the Roberta Place long-term care home that would last 41 days and claim 71 lives.
The Simcoe Muskoka District Health Unit declared the South Barrie facility an outbreak on January 8, 2021 and announced it was completed more than a month later on February 18.
There have been 67 deaths of confirmed residents, three considered probable and one death of an essential caregiver who was associated with the establishment of Essa Road.
Local medical officer of health Dr Charles Gardner said on Friday there have been 291 deaths in Simcoe-Muskoka from COVID-19 to date, the majority of which have been in the elderly, including many in outbreaks in long-term care facilities.
"The Robert Place outbreak was the largest of these outbreaks and was indeed a very sad incident," Gardner said. "A community wide response was needed for the Roberta Place outbreak given its size, speed and severity.
"This was the first outbreak of what was then the new alpha variant, which greatly increased our concern about the situation," he added. "I would like to congratulate the many organizations and individuals for their response, including the provincial ministries. "
After further testing, it was determined on January 23, 2021 that the cause of the outbreak was the highly contagious UK variant B.1.1.7.
To help control the spread of the virus, the Orillia Soldiers' Memorial Hospital (OSMH) took over the local facility with help from the Royal Victoria Regional Health Center (RVH) and the Red Cross.
On a conference call with the media on January 26 of last year, Gardner said Roberta Place was "no longer like a long-term care facility and more like an acute and palliative care facility, in terms of the needs of the residents there."
At one point in the outbreak, 127 of 128 residents all had the virus in the 137-bed long-term care home.
When the outbreak was declared over, David Jarlette, president of Jarlette Health Services which operates Roberta Place, said the announcement was "both a reflection and a promise."
The local health unit's website currently lists 34 active outbreaks in the area, including 15 in long-term care facilities.
Gardner was asked if another grim situation like Roberta Place was possible, now that public health officials know more about the virus, and whether the long-term facilities that house some of our most vulnerable people could one day. be fully protected.
With the vaccination, Gardner said there had been a high degree of protection for residents of long-term care facilities during the most recent waves.
"Unfortunately, with the omicron variant, we are now seeing many groundbreaking cases and epidemics in our long-term care facilities, nursing homes and other gathering places," the doctor said. "Fortunately to date, these cases on the whole have been mild, possibly due to the vaccination they received.
"However, we must continue to monitor gravity and do everything possible to limit transmission at these facilities," Gardner added. "As part of this response, we are providing a fourth dose of vaccination to residents of long-term care facilities. "