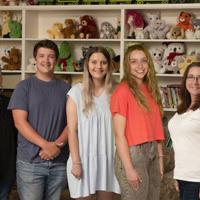 Announcing the recipients of the annual Hope Manning Memorial Scholarship | School News
The 2022 Hope Manning Memorial Scholarship was awarded to three Cumberland County graduates, one from each high school.
Each student applying for the scholarship submitted an application and an essay on the obstacles they overcame and their plans for the future. The House of Hope Board of Trustees selected the students based on their "ability to hold on".
Jasmin Horsley of Phoenix High School, James Cody Hicks of Stone Memorial High School and Maggie Miller of Cumberland County High School will each receive $1,000 when they complete their college enrollment.
Upon successful completion of their first year of graduate school, each student will be eligible for another $1,000 scholarship.
Horsley is the daughter of Bryan and Andrea Simmons of Crossville. She plans to pursue a career in early childhood education, with initial coursework at Roane State Community College, then graduating from Tennessee Tech University.
Hicks is the son of James and Kathryn Hicks of Crossville. He plans to major in mechanical engineering at the University of Tennessee campus in Knoxville.
Miller is the daughter of Zack and Corey Miller of Crossville. She plans to complete her degree in agricultural business at Tennessee Tech University.
The Hope Manning Memorial Scholarship was established in memory of a little girl who, at the age of five, was the victim of child abuse. The scholarship program began in 2006 with sponsorship from the Crossville Carving Club and the House of Hope. The carvers were inspired after hearing then-Sheriff Butch Burgess talk about the House of Hope naming and the services the House of Hope provides to drug-dangerous, abused and at-risk children. They hand-carved over 100 one-of-a-kind Christmas decorations, which were sold to raise money for the first scholarships.
For more information on the House of Hope and its programs, visit the website at www.houseofhopetn.com.