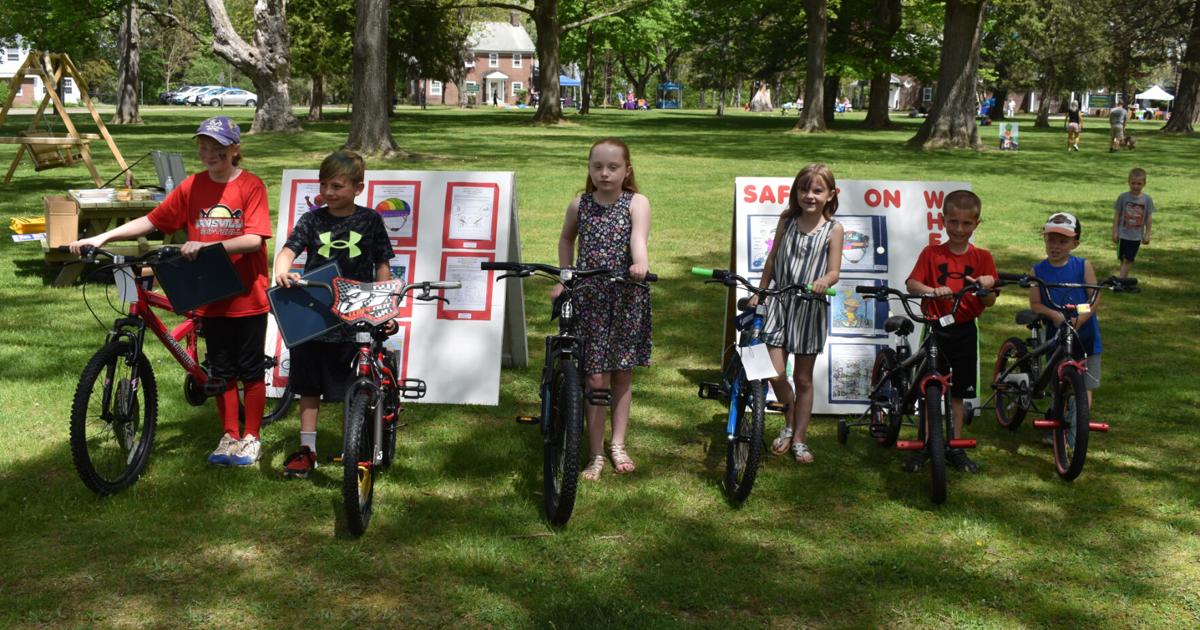 Cooperative Extension Lists Security Show Winners | Lifestyles
MOUNT MORRIS – Cornell Cooperative Extension of Livingston County has announced the winners of its annual Safety on Wheels coloring and writing contest.
Winners received a certificate of achievement at the official awards ceremony, which took place at the Livingston County Safety and Wellness Fair on May 14.
More than 350 contest entries were received from Livingston County students in grades 3 through 6.
The first contest winners received a new bike and helmet. The winners were James Jordan, Colby Bodekor, Shilo Heuer, Levi Matthew Goins, Declan Milhollen, Autumn Kelley, Ava Huey and Alexis Ritenburg.
Second place winners each received front and rear safety lights and a new helmet. The winners were Quinn Bartholomew, Marcus DeGolyer, Lilah Kathern Brown, Jack Somers, Declan Fraser, Zoe Amorese, Blaikley Dixon and Mathilda Fletcher. Quinn Bartholomew also received recognition and a bike accessory kit for having the most creative entry.
More than 200 community members attended the Safety and Wellness Fair at the Livingston County Campus on Murray Hill Drive in Mount Morris.
The event featured 28 interactive stations that encouraged discussion on a variety of topics aimed at educating parents and their children about community health and safety resources and programs. Topics included helmet, bicycle and child passenger safety; community health and wellness programs; nutrition and hydration; parenting and childcare resources; gardening, insects, recycling and composting; alcohol and substance abuse education; and more.
An addition to this year's event was a helmet fitting and distribution station where every child at the fair received a new, properly fitted bike helmet. The kids also enjoyed learning about the Civil War from a local re-enactor, building and playing in the Genesee Valley Council on the Arts cardboard castle, and filling out their sticker map at the education stations for free ice cream. All show attendees were treated to a complimentary healthy grilled vegetable wrap courtesy of CCE's dietitian nutritionist, make-your-own trail mix at the Master Food Preserver Station, and thirst-quenching infused water at the Master Food Preserver Station. SNAP Educator Hydration.
Agencies and organizations that participated and helped organize this year's event included Cornell Cooperative Extension, Genesee Valley Health Partnership, Livingston County Sheriff's Office, Livingston County Department of Health/WIC and MICHC programs, Fidelis Care, CASA Trinity, Child Care Council, Inc., GLOW Region Solid Waste Management, Restore Sexual Assault Services, Livingston County Office for the Aging, URMC Center for Community Health & Prevention, Elizabeth Wende Breast Care, Veteran's Administration, Livingston County Department of Social Services, Excellus BC /BS, URMC Wilmot Cancer Institute, NY Farm Net, Camp Cherith WNY, Genesee Valley Council of the Arts, Geneseo Parish Outreach, Kidstart, Lifespan, Person Centered Services, and Pregnancy Resources Center of the Valleys.
Hilltop Industries and Katherine Humphrey also provided support for the Road Safety Program and this year's Safety and Wellness Show.
Cornell Cooperative Extension of Livingston County's Road Safety Education Program offers educational programs and workshops for area residents of all ages on topics such as occupant, wheeled vehicle and pedestrian safety . The program also hosts mobile child car seat check events throughout the county. For more information about any of these programs, contact Traffic Safety Educator Barbara Sturm at (585) 991-5432 or (585) 335-1752 or email [email protected]