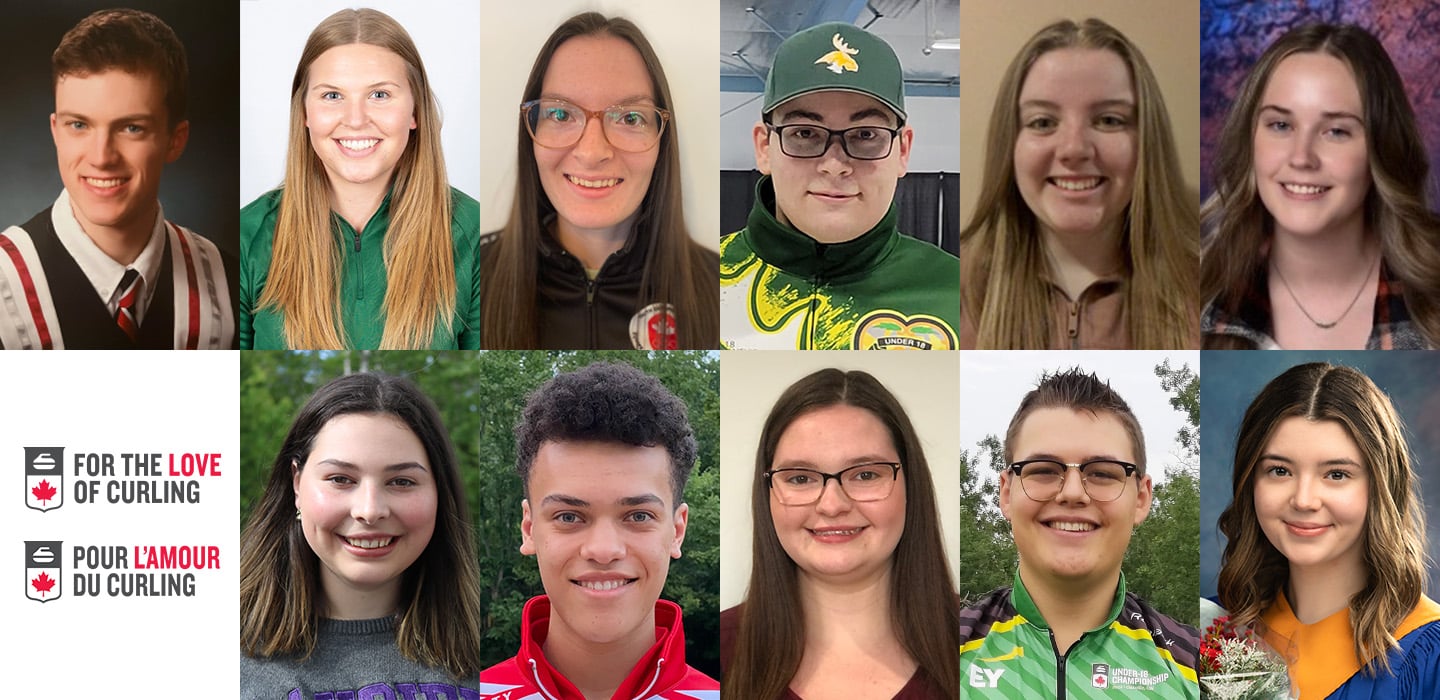 Curling Canada | 2022 scholarships awarded!
Curling Canada Announces Recipients of 2022 For the Love of Curling Scholarship Program
The newest selection of For the Love of Curling Scholars are making strides in all aspects of the sport, from able-bodied curling to wheelchair curling, while setting ambitious goals to grow the sport at grassroots and high-level levels.
The scholarship program received 71 submissions and was narrowed down to 11 recipients by a seven-person selection committee. Each recipient will receive a $2,500 scholarship.
Among these recipients, the Governor General's Curling Club – an honorary society under the patronage of the Governor General since 1874 – has selected a deserving candidate to receive a scholarship funded by donations from its members valued at $2,500.
"This year's scholarship recipients showcase their incredible qualities and tell new stories about curling and what it means to be a curler in Canada. From performing at high levels of the sport to being beacons of change for more inclusive and welcoming curling communities, the 11 recipients are improving the game through their involvement," said Katherine Henderson, CEO of Curling Canada and member of the selection committee. "These are deserving recipients who amplify the values ​​of sportsmanship, community and integrity. Our sport is in good hands with these future leaders of the game."
The 2022-23 scholarship recipients are:
Sean Beland – Upper Tantallon, N.S. – Engineering – University of New Brunswick
Brianna Cullen –Oakbank, Man. – Bachelor of Kinesiology, Major in Athletic Performance – University of Alberta
Emilie Deschenes – Greely, Ont. – Business Administration – Algonquin College
Jackson Dubinsky – Thunder Bay, Ont. – Concurrent Education Mathematics and Science – Lakehead University
Rachel Jacques – Edmonton – Kinesiology, sports and recreation – University of Alberta
Isabelle Ladouceur – Bedford, N.S. – Psychology and Neuroscience – Wilfrid Laurier University
Kibo Mulima – Inverary, Ont. – Communication Studies and French Studies (double major) – Wilfrid Laurier University
Emma Nagel – Leduc, Alta. – Child and Youth Care – Lakeland College
Carter Parenteau – Spiritwood, Sask. – SUNTEP/Education (Saskatchewan Urban Native Teacher Education Program) – University of Saskatchewan
Cassie Rogers – Yellowknife, Northwest Territories – Honors Environmental Engineering, Co-op – University of Waterloo
The additional For the Love of Curling Bursary, presented by the Governor General's Curling Club, is awarded to Cate Fitzgerald of Halifax (B.Sc. in Respiratory Therapy from Dalhousie University).
"We are honored to present Cate with a $2,500 scholarship to further support her educational goals, as well as her aspirations to become a future leader in our sport. Cate is gearing up for an exciting season after winning the Canadian Junior Women's Curling Championship. His team is aiming to qualify Canada for the next World Junior Championship, and this scholarship will help him balance his aspirations on the ice to make Canada proud of his studies," said the President of the Governor General's Curling Club, Graham Harris. "These funds, raised through donations from our members, are intended to support the development of young curlers, and Cate is a shining example of someone we are delighted to support."
Fitzgerald will be honored by the Governor General's Curling Club at its annual general meeting and dinner on September 12.
The 2022-23 scholars have a variety of experiences at all levels of sport. Deschênes will represent Team Canada with Fitzgerald at the World Junior-B Curling Championships with the ultimate goal of qualifying the Canadian women's team for the 2023 World Junior Curling Championships in Fuessen, Germany.
Nagel is also making history with the For the Love of Curling scholarship program, being the first wheelchair curler to receive the scholarship since the program began in the 2013-14 season.
All nominees were required to demonstrate excellence on the ice, demonstrate volunteer leadership in the community, and share a personal essay on the impact curling and the sport community have had on who they are today.
In addition to Henderson, the selection panel included former scholars Nathan Young (2020), Lauren Rajala (2020) and Johnson Tao (2021), as well as Wil Thurlow of the Governor General's Curling Club, Curling Canada Governor Donna Krotz and Maureen Miller of the Women's Curling Leaders Circle.
Curling Canada's philanthropy program, launched in the 2013-14 season to help develop and grow youth and junior curling across Canada, received donations totaling more than $400,000 last season. Programs such as The Egg Farmers Rocks & Rings presented by Curling Canada, Hit Draw Tap presented by Tim Hortons and the For the Love of Curling Scholarships are only made possible through the generous support of the Canadian curling community.