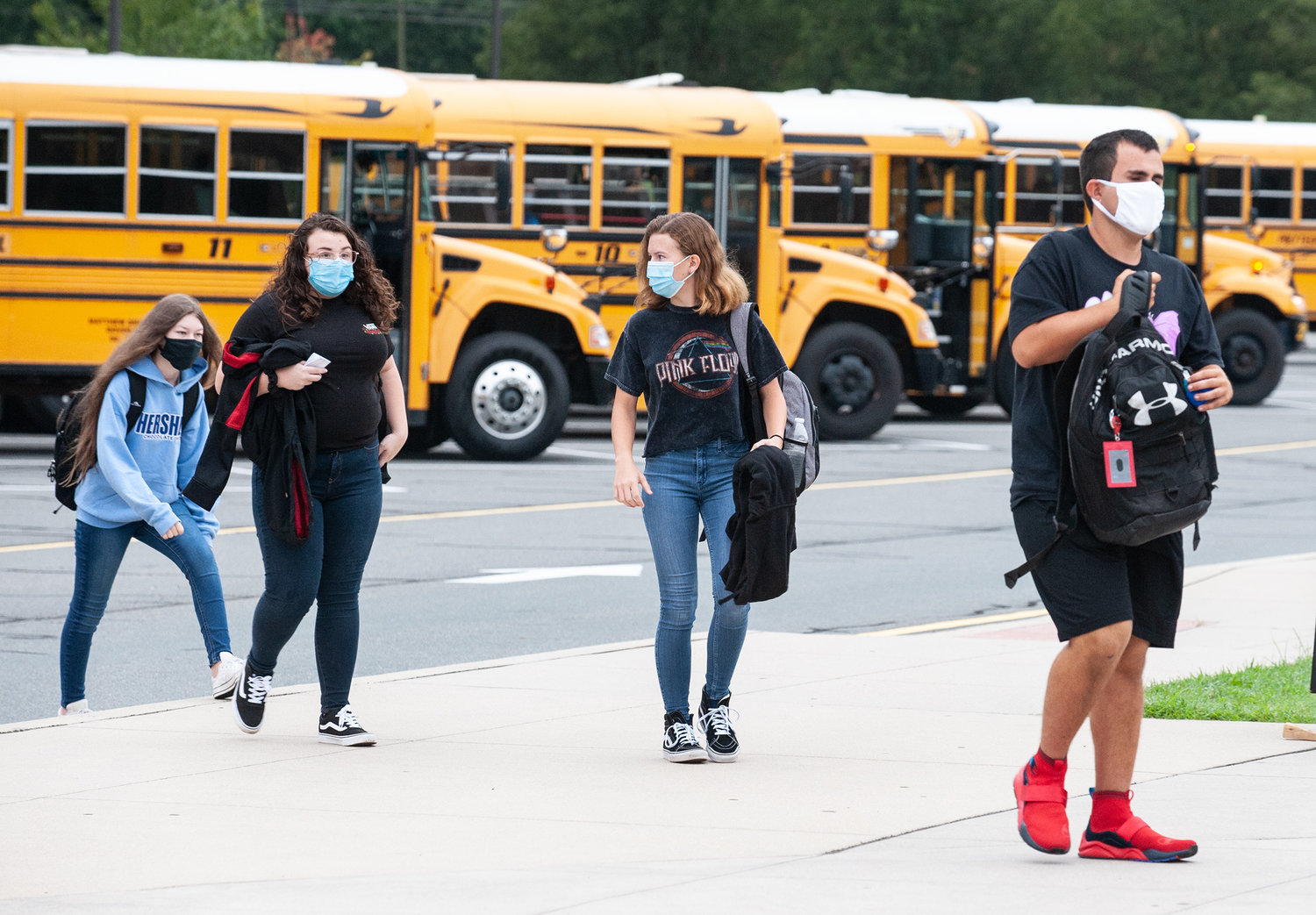 Delaware Schools To Resume In-Person Learning In New Year
By Leann Schenke, Glenn Rolfe and Tim Mastro
With the new guidelines from the Centers for Disease Control and Prevention in mind, most schools in Delaware are preparing for an in-person return to school in the New Year.
Heath Chasanov, superintendent of the Woodbridge school district, said schools would open as usual on Monday morning. However, he expressed concern over personnel issues if the number of COVID-19 cases "continues to rise as they are".
"If we have too many people outside, we can't run a school," he said. "This is our biggest concern. You see it in professional sports. You see this in the medical field. You see it in so many other areas. That's kind of what we're keeping an eye on. "
Mr Chasanov said the district will continue to monitor the number of employees absent due to the virus, as they have done over the past two years, as well as keep in touch with district directors and supervisors. Still, he said the district's goal is to keep students in their physical classrooms.
"If we start having this kind of situation, we will do everything we can to stay in school," he said. "But every industry has a breaking point. I just hope we don't get there. Our children must be in school and we will do everything to ensure that the children are in school as many days as possible.
The Sussex Academy, a charter school, announced Friday via Facebook that its winter vacation will now extend until January 7 due to the spread of COVID-19 variants.
Then on January 10, in-person instruction will resume with a virtual option for families who choose to do so and for students who need to be quarantined.
The post says more detailed information for the return will be shared early next week. Information on the impact on sports and extracurricular activities will be shared as it becomes available.
As of December 24, there had been 5,457 contagious in-person cases of COVID-19 among public students in Kindergarten to Grade 12 since September 4. This represents 3.8% of the estimated 141,040 students in public schools (the 19 districts and 23 charter schools). There were 1,165 additional cases among public school staff.
During a press briefing on COVID-19 on Thursday, Governor John Carney said in his office that there had been no discussion about allowing school districts to move away.
"I guess they discussed it at the district level in different places in our state," Governor Carney said.
Noting that there is a "fairly widespread" spread of COVID-19 in the state, Governor Carney said the spread is highest in areas with lower vaccination rates. He classified central Delaware and lower Delaware as areas with high spread levels. Governor Carney said the spread is also more concentrated among young adults.
"A lot of these young adults obviously have young children, so we are very concerned about the need to have these populations vaccinated when many of them have not received any doses," he said. "This is where we think our goal should be to be. "
Noting the negative effects of distance learning, Governor Carney said one of the state's most important goals is to keep children in schools for in-person instruction.
"We know how severe the negative effects have been," Governor Carney said. "They were away for months at a time. We also know how safe and structured the environments are in schools. "
He said the mask's mandate helps make schools safer than "just about any other place."
"Are we concerned about the surge and whether it can penetrate these environments?" Absolutely, "he said." Are we concerned that the children have been out of this structured environment for an extended period of time? Absolutely. That's why the message is to be careful not to disseminate it from the social environments of parents and young adult siblings to children.
Governor Carney said the effects of children outside their physical classrooms can spill over into other areas of normal life.
"When the kids don't go to school, parents can't go to work. We heard it loud and clear at the start of the pandemic with our daycares, schools and hospitals, "Governor Carney said. "They can't keep their workers there unless their kids have places to go. "
In a message posted to Facebook on Wednesday and signed by Superintendent Kevin Fitzgerald, the Caesar Rodney School District chose to adopt new CDC guidelines for shorter isolation and quarantine times for people infected with COVID-19 .
This means that students who test positive for COVID-19, but asymptomatic, can reduce their isolation period from 10 days to five days as long as they wear a mask around others (inside and outside of their home. home) for at least five additional days.
If you develop a fever, stay in isolation until the fever goes away.
For unvaccinated students – or more than six months away from their second dose of Pfizer or Moderna, or two months away from their single dose of Johnson & Johnson (no booster) – the quarantine time has been reduced from 10 days to five days, followed by mask use for an additional five days.
For close contact with students who have received their booster – or are within six months of being fully immunized with Pfizer or Moderna, or are within two months of their Johnson & Johnson vaccines – no quarantine is necessary . These people must wear a mask for 10 days after being exposed to COVID-19.
For close contacts vaccinated who are not eligible for a booster, including students under the age of 16, no quarantine is necessary.
The Delaware Division of Public Health is reviewing the guidelines and assessing its impact on the Test-to-Stay program, wrote Dr. Fitzgerald.
Sussex Tech superintendent Dr Kevin Carson said on Wednesday there were no changes to report regarding the reopening of schools in the new year.
"We plan to open on Monday," he said. "We are aware of the COVID numbers that everyone has seen. We continue to communicate with the DPH. We continue to seek their advice and guidance in the future. "
Dr Carson added that Delaware superintendents "keep in touch with each other" about virus counts and going back to school. As with the Woodbridge School District, he said the challenge could be staffing in the New Year.
"To my knowledge, everyone in Sussex County opens on Monday," he said. "The challenge people have is making sure you can staff your buildings. Everyone is trying to do their best, but it's a very fluid and dynamic situation.
Indian River School District spokesperson David Maull confirmed via email that students will receive in-person instruction when schools resume Monday.
Seaford School District spokesperson Jason Camerson said the same, as did Dr. Shawn Larrimore, Laurel School District superintendent.
"Our plan is to continue the in-person learning from January 3," wrote Dr Larrimore in an email.
Mr Chasanov said that with the implementation of COVID-19 mitigation efforts, schools are safe places for students – "as safe as any place," he said.
"Children wear masks. We follow protocols, and that doesn't happen everywhere in their life, "he said. "We are certainly seeing some positive cases. We saw an increase until the break. The cases were increasing as was the whole of society. We still haven't seen a ton of what we thought were cases that spilled over into schools. I'm not saying it doesn't happen. It does happen, but most of the cases we see come from home, outside of school. "