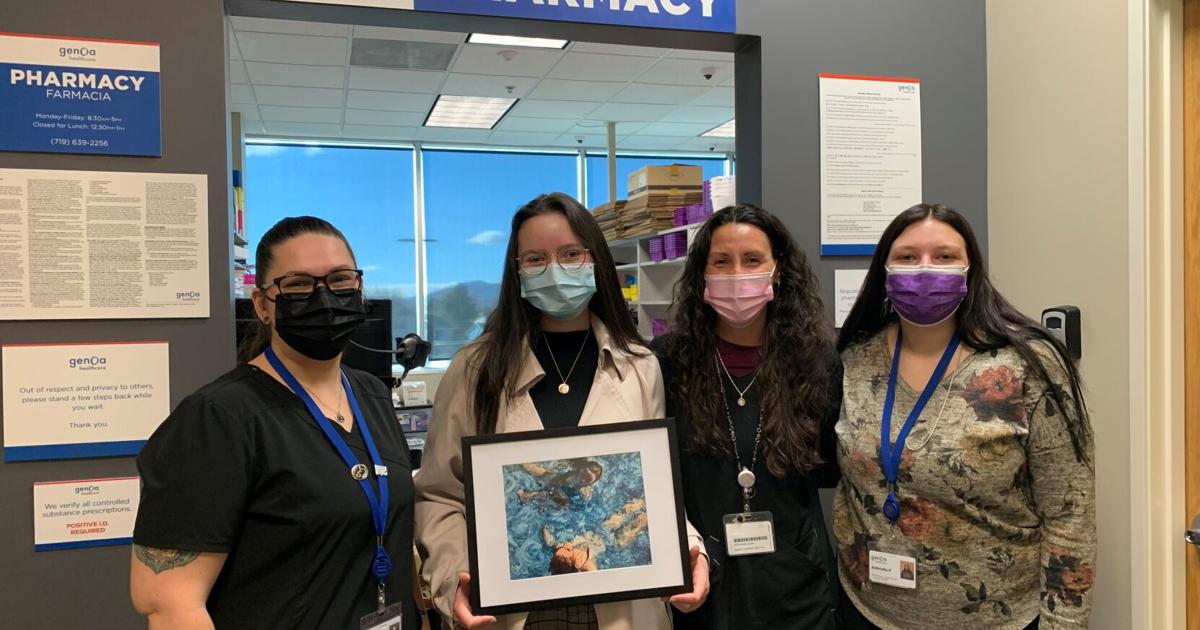 News from the Tri-Lakes region in brief | The gallery
Colorado Springs Artist Wins Genoa Healthcare National Art Competition
A Colorado Springs resident is one of 13 winners in a national art competition sponsored by Genoa Healthcare, the nation's largest provider of behavioral health pharmacy services. Aidan Glaser has been awarded the Genoa Pharmacy located within the Diversus Health Jet Wing Counseling, Psychiatry and Addiction Center in northern Colorado Springs.
Glaser's work was chosen from a record 700 entries in the competition, which was launched ten years ago to recognize and celebrate the benefits of art to mental health.
"Art is a way for me to decompress and just focus on creativity," Glaser said. "I have a lot of fun with it, and being proud of my work is a great feeling. "
Glaser's Piece is an oil painting on panel depicting two girls swimming amidst swirls of multi-shade blue. The winning works of art are displayed in a virtual art gallery and will feature in the 2022 Genoa calendar, which is distributed to its more than 600 pharmacies across the country.
"The effects of COVID-19 have increased feelings of stress and anxiety for a lot of people," said Jordan Bendinelli, director of pharmacy operations for Genoa Healthcare in Colorado. "Our consumers and staff tell us that the art competition is a great way to share their talents and improve their mental health."
Art can play a valuable role in improving mental health. A study published in the American Journal of Public Health found that painting, drawing, and music can reduce anxiety, stress, and mood disorders. The competition aimed to provide Genoa Healthcare pharmacies with a way to engage with the people they serve in creative and meaningful ways.
Education Updates
Bhaskar Reddy Bathula, of Colorado Springs (80921), graduated from Cumberlands University, Williams, Ky., With a Master of Science in Information Technology.
Jameson R. Bush of Monument has been named to the Fall 2021 Honor Roll at Bethany College in Lindsborg, Kansas. He graduated in management.
Katie Doiron, of Monument, has been named to the 2021 Fall Semester Dean's List at Ohio Wesleyan University in Delaware, Ohio.
Alianna Higgins, of Colorado Springs (80921), was on the Dean's List for the fall semester 2021 at Hastings College in Hastings, Neb.
Mackenzie Pepper, of Monument (80132), has been named to the Dean's List of Saint Mary's College for the fall semester of 2021. The college is in Notre Dame, Indiana.
Saxon Wright, of Monument, was named to the 2021 Fall President's List at Chadron State College in Chadron, Neb.
The following residents of the Tri-Lakes area have been named to the Fall 2021 Dean's List at Harding University in Searcy, Arkansas: Lisanne Cheatham, second-year integrated marketing communications student, Colorado Springs (80908 ); Katie Nalley, second year special education student, Monument (80132); Jenna Lewis, a senior interior design student, from Monument (80132); and Kylea Roitsch, a freshman studying health studies, from Colorado Springs (80908).
MVEA accepts scholarship applications
Mountain View Electric Association awards up to $ 27,000 in scholarships to members, or their dependents, who continue their education.
The MVEA scholarship program includes 17 scholarships of $ 1,000 to accredited colleges, universities, junior or community colleges. MVEA is also offering an electrical engineer scholarship of $ 2,000 to a current student pursuing a career in electrical engineering, two scholarships of $ 2,000 for power lineman for those pursuing a career under a Lineman Training Program and up to four $ 1,000 Professional / Technical Scholarships. Applicants for the Power Lineman Scholarship and Professional / Technical Scholarships may be non-traditional students or those who do not enter college immediately upon graduation from high school.
Recipients will be selected through a computerized random selection procedure from all qualified applicants.
Visit www.mvea.coop/bourses to complete an application and for more information. Scholarship applications must be sent by Monday January 17th at the latest.
MVEA is an electrical cooperative that was organized in 1941. It serves over 51,000 members and over 60,000 yards in parts of eight counties – Arapahoe, Crowley, Douglas, Elbert, El Paso, Lincoln, Pueblo and Washington.
The CSPD is looking for volunteers for the Victims' Rights Unit
The Colorado Springs Police Department's Victims Advocacy Unit is looking for volunteers to help provide essential support and resources to victims of crime in Colorado Springs.
The unit provides services and support to those who have been victims of crimes covered by the Colorado Victim Rights Act. Some of the services include:
Immediate crisis response and safety planning (24/7, victim support on call)
Information about Colorado's Victims' Rights Act Help Completing Crime Victims Compensation Fund Claims
References to community agencies and resources
Support during the investigation process and education on the criminal justice system
Organization of interpretation services for victims with limited English proficiency
Information and assistance in obtaining protection orders
Volunteers work side-by-side with full-time staff members.
After applying, those selected to become VAU volunteers will receive 72 hours of specialist training at the VAU Volunteer Victim Advocate Training Academy starting March 21. The academy includes four-hour classes on Monday and Thursday evenings.
Participants will be trained in victim advocacy skills including crisis response, community resources and Victim Advocacy Unit operations. Students will also gain a general understanding of the different units and functions of the Colorado Springs Police Department.
In collaboration with the academy, on-the-job training is provided to volunteers recruited into the unit. Applications should be sent on March 7th.
Complete the application at springscaps.org. All applicants must complete a criminal background check and polygraph before enrolling in the training academy.