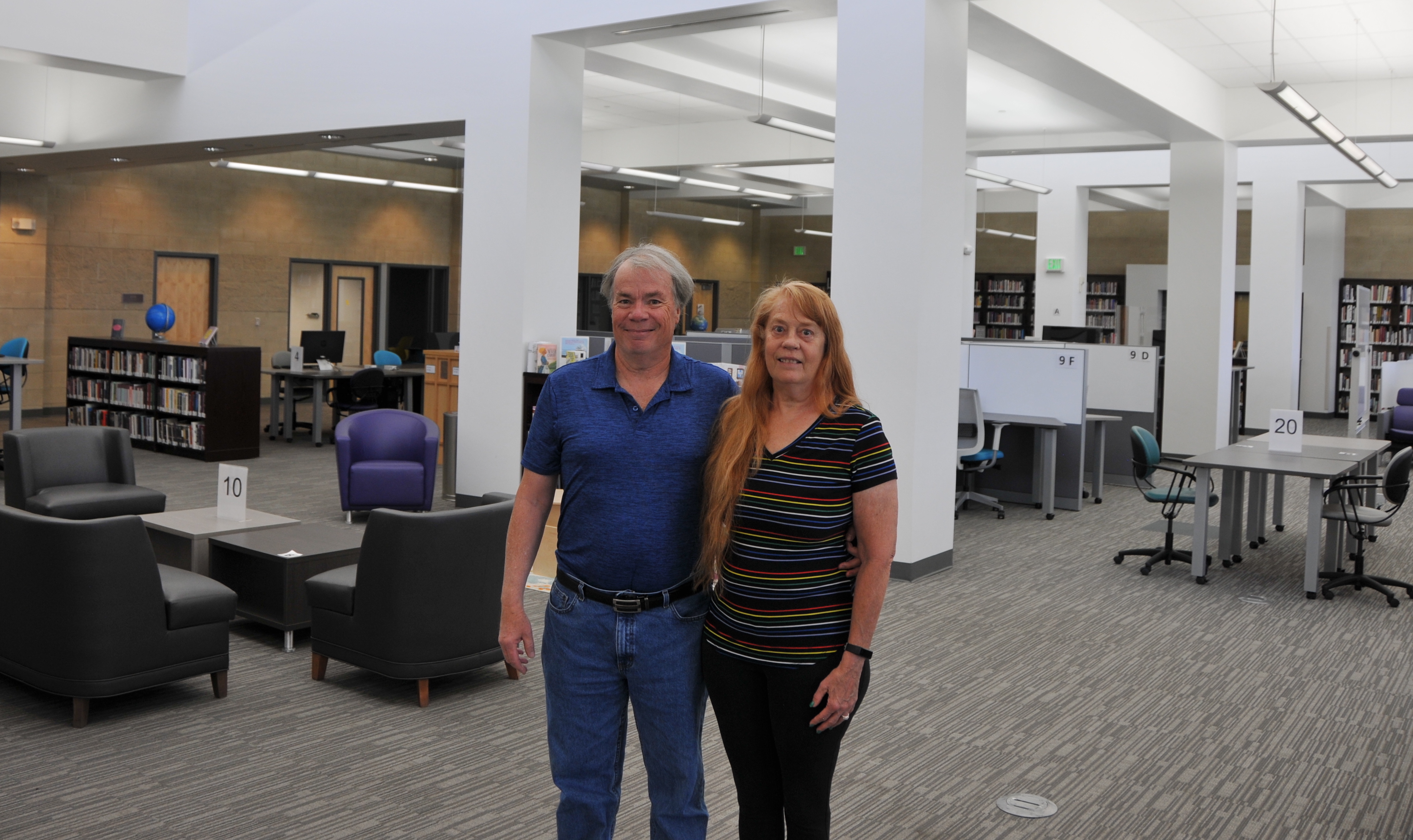 Notes: Pay It Forward scholarship at Western Nevada College
John McDougall and his life partner Debbie Dubuc have their photos taken in the reimagined Joe Dini Library at Western Nevada College.
Monday, December 27, 2021
The Pay It Forward Project has set up a scholarship program for high school and college students in the hopes of encouraging them to help people with acts of kindness throughout their lives, reminding them that they can make a positive difference in our society one step at a time.
Since 2015, John McDougall, a longtime Lake Tahoe resident, has helped students at South Tahoe, Mount Tallac High and George Whittell High School; students of Lake Tahoe Community College; and students of the LTCC Pay It Forward Fire Academy. In other words, the project showed these students a certain generosity and benevolence to show kindness towards members of their own community.
After moving to Carson City, McDougall expanded the Pay It Forward project to Carson High School in 2020-21 and plans to establish the project at Douglas High School for the 2021-22 school year. During his brief period as a resident of Carson City, he also created an endowment for the Pay it Forward Scholarship at Western Nevada College, providing an annual scholarship of $ 1,000 to students and encouragement to contribute to their community.
The Pay It Forward project also provides matching grant funds for student clubs and high school students who lead community projects. Last year, a senior from Carson High School completed a community project to raise money for socks, gloves and diapers for the Carson City community during the health pandemic. The Pay it Forward project matched donations of up to $ 500, which were split between FISH and the Ron Woods Center. The student was able to raise $ 2,263.90 to help these two important organizations. This same student received a scholarship to help her in her future college studies.
"Our mission is to educate and encourage young people to make a positive difference in their communities. Philanthropy is just something that I learned as I went along and especially as a member of our community Rotary club, "said McDougall. "I just think that in our society it is important to help each other when we can and to recognize the needs of our communities. We want to help people who are struggling to get an education who are highly qualified to get one, in addition to showing them that they can make a positive difference by helping others.
The idea for the scholarship project arose after seeing how a student helped by a scholarship from the Tahoe Douglas Rotary Club came back to the club and suggested that he offer his scholarship to someone else. The Pay It Forward project encourages others, especially young people in a community, to do charitable work for others, to donate their time to community or environmental projects to show that they care about them and that we can all make a positive difference. This crusade to educate and spread goodwill with random acts of kindness has given rise to many heartwarming stories.
"One of the important things I see with a scholarship is not just handing a check to a child; it's about sitting down and talking to them a little bit, "McDougall said. "There is a way for students to pay it forward, including helping a teacher, someone at school, or a neighbor. It doesn't require money; these are different things we can do to help each other. Students are encouraged to do that, and that's important because sometimes if you say, "Here's a check, get a good education." Wait a minute now, the process is a little more than that.
McDougall visited the WNC facilities last summer to see new science labs, a redesigned library, hands-on fabrication and mechatronics labs, a vibrant art gallery and more, returning in awe of the facilities and equipment that the college provides to its students.
In order for a WNC student to be eligible for the McDougall Pay It Forward scholarship, they must demonstrate a clear and ongoing commitment to community service and have financial need. The Pay it Forward project grants can help them with these community projects.
"Students can be very creative in helping others; it's just about them channeling their energy, "McDougall said.
Winter session The 3-week courses start on January 3; the spring semester starts January 24
The second cycle of accelerated online courses begins on Monday, January 3. These three-week courses include Visual Foundations (ART 100), Art Appreciation (ART 160), Ancient and Medieval Cultures (CH 201), European Civilization until 1648 (HIST 105) and Introduction to information systems (IS 101).
To register for these courses after January 3, students must submit a late registration form with instructor's approval to Admissions and Records by January 7. These courses will end before January 21.
The spring semester, which begins Monday, January 24, offers a variety of options for students. Along with an assortment of in-person courses and an increased number of online courses, WNC offers students the flexibility to take short-term, late-start, self-paced courses, which will also be available in the spring.
Students who attend classes in person will need to be vaccinated. Students who take all of their courses online will not be required to be vaccinated, but all students will be required to complete an immunization status form at wnc.edu/student-vaccine-form/.
To view all winter and spring semester courses, go to wnc.edu/class-schedule/. For more information, call 775-445-3267.
If you need help preparing for the spring semester, make an appointment with Counseling Services at 775-445-3267 or [email protected]

The Association of Auxiliary Professors recognizes four laureates
The Western Nevada College Adjunct Faculty Association honored four instructors for fall 2021.
Ana Casareto, Kevin Earl, Cindy Kuehn and Peter Mires were selected for their dedication to teaching and their students.
"In making our decision, we took into account a number of different factors, including teaching ability, commitment to student success and retention, willingness to innovate, such as participation in educational opportunities. learning and training; and college service by participating in committees. , mentoring and other work, "said Lane Simonian, member of a selection committee that also included Deborah Fruechtenicht and Denise Frohlich.
Simonian said this was the first time adjunct faculty members had been honored for their teaching excellence with a monetary award since 2010.
"We are grateful that President Dr Vincent Solis and Provost and Senior Vice President Dr Kyle Dalpe have allocated money for this well-deserved recognition of Auxiliary Instructors," said Simonian.
The WNCAFA plans to recognize four more assistant professors in the spring.
"It is not too early for the adjunct professors to start thinking about who they would like to appoint then," said Simonian. "I am proud to have known many of our candidates and to have admired their contribution to the success and enrichment of students. Best wishes to them and to all of our adjunct teachers.
Nursing program entrance exam dates announced
Applicants to the Western Nevada College Nursing Program can choose dates after the New Year to take the required entrance exam.
Test dates for the Test of Essential Academic Skills (TEAS) include the 2022 test dates in January, February, and March:
• January 28
• February 4 and 18
• March 4, 11 and 18
Testing takes place from 9 a.m. to 1 p.m. in WNC's Cedar Building 320D room. Check-in starts at 8:30 a.m.
Students must have completed the Entrance Exam in Fall 2021 or complete it in the Spring Semester to be considered for admission to the Fall 2022 Nursing Program.
For more information, contact the Nursing and Paramedical Office at 775-445-4425 or email [email protected]
The college will close for New Years Eve
All three Western Nevada College campuses will be closed on Friday, December 31 to celebrate New Years weekend.
After being closed for the Christmas break weekend, starting Friday, December 24, the college will resume normal opening hours from 8 a.m. to 5 p.m. on Monday, December 27 to help students with the winter session and the spring semester.
After the New Year's holiday weekend, the college will reopen on Monday January 3.
Many college services can be provided online. For more information, visit wcc.edu.
Good year!