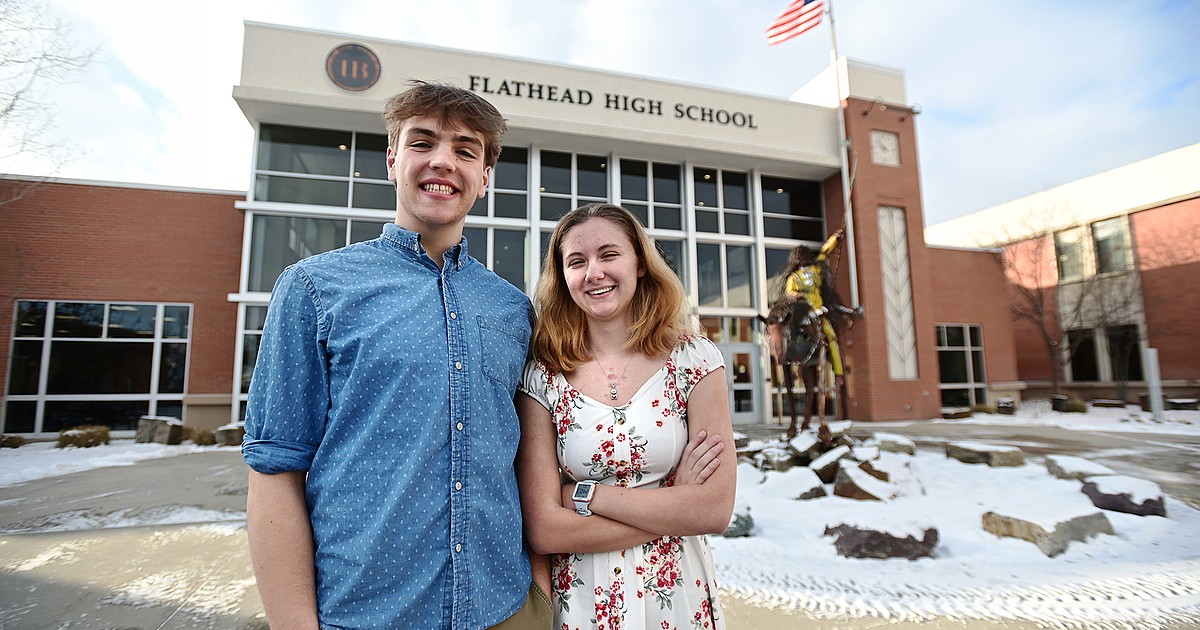 Quest completed for two Flathead High students
When Flathead Senior Maayana Sattler found out she had been named a QuestBridge Fellow, she walked into one of her speech and debate coach's classrooms and collapsed with excitement as she shared the new.
The stress of where the money would come from to pay for tuition, room, board, meals, textbooks and travel expenses – was gone. She will receive a full ride to attend Swarthmore College in Pennsylvania as a QuestBridge National College Match scholarship.
She wasn't the only Flathead High School student to receive the life-changing news. Senior Luca Zoeller was also named a QuestBridge Scholar and will attend Colorado College as a College Match Scholarship recipient.
QuestBridge's National College Match program matches high-achieving high school students from low-income backgrounds with full four-year scholarships to prestigious liberal arts colleges and research universities.
From more than 16,500 applicants, QuestBridge, a California-based nonprofit organization, selected 6,312 finalists. Of those, the nonprofit's 45 university partners were matched with 1,674 finalists — the most to date — who were recognized as scholarship recipients, according to a news release.
This group of high schoolers have an unweighted average GPA of 3.93 and 92% are in the top 10% of their class. Financially, 95% comes from a household with an annual income of less than $65,000. The majority – 81% – are from the first generation of their families to attend a four-year college in the United States, which includes Zoeller and Sattler.
"My family is from Mexico, so we've always had the American dream and I'm finally the one who can accomplish that for them and that's – it makes me all emotional – that's, it's amazing for my family that I may have this opportunity," Sattler said.
Zoeller said he was grateful for the support of his family and teachers who helped him through the process.
"It wasn't just me who put this together. My whole family helped me. We must have had five or six letters of recommendation. Mr. Kelly spent hours researching. I mean, all my teachers helped me," he said. "It's really the culmination of other efforts by people trying to help me and it's kind of nice that so many people can come together and do this."
Flathead Career Center Director Mike Kelly was astonished, but not surprised, that two Flathead students were selected into the competitive program, describing the two students as "very curious and bright learners," a hallmark trait of the Fellows. QestBridge. He thinks this is the first time Flathead has had two students selected. A total of four Flathead students submitted applications this school year.
Outside of grades, students should bring something unique to the table, Kelly said.
Along with this curiosity and passion for learning, QuestBridge Scholars are generally described as having agency, courage, compassion, gratitude, integrity, and determination.
Kelly is the driving force that encourages Flathead students to apply. When Kelly first heard about QuestBridge programs, he knew it was worth the time to help Flathead students achieve their dreams.
"It makes me emotional," Kelly said, pausing, "These are kids who, because of lack of money, have no chance of going to Swarthmore or Colorado College. They might get in, but they would be so in debt.
The application process is long. Sattler reckons it took two months and several revisions before she felt up to it. During the process, Zoeller and Sattler were able to rank up to 12 QuestBridge partner colleges and universities.
"The first college or university that selects them, so they commit to going," Kelly said. "They want students who will build their college community."
Prior to being considered for the scholarship program, both students were selected and completed QuestBridge's College Prep Scholars program as juniors. Through the program, they received essay feedback and guidance throughout the college application process, in addition to visiting college campuses, which was done remotely due to the pandemic.
"Such a huge weight has been lifted that now I have the ability not to stress about it. Once that happened, I was like what I'm supposed to be doing now," Sattler said.
Zoeller added, "Yeah, that was like the sequel."
For the first two months of his senior year, Sattler worked a 30-hour week and attended high school full-time to cover personal expenses at home to ease some of the financial stress his family was under. Since then, she has been able to reduce her work to two days a week to participate in extracurricular activities.
Zoeller said he always knew he would go to college, just like his grandmother, who he lives with. He said she encouraged him to look for scholarships. But before QuestBridge, he realized he would still have to go into debt, even with scholarships and financial aid.
"She knew I wanted to go to college and needed to go to college, but money was tough," he said. "It's pretty cool that I can get in with a scholarship."
Zoeller said the scholarship also gave her the opportunity to help her family.
"For me, it's good, because I know I'm going to have to take care of my grandmother and my mother as well," Zoeller said. "It's nice to know that I can graduate from college debt-free."
With the major hurdle of finances out of the way, the two seniors can focus on courses, activities, and interests to figure out what they want to major in since the two are undecided.
"You know, when you have seven ideas, you have to narrow them down," Sattler said with a smile. "I'm really practical. That's why engineering was kind of an idea, but then I started taking calculus classes and now I'm rethinking everything.
"I'm just interested in everything," she added, then illustrating the point eagerly in her voice, continued, "I was also watching anthropology because it's super cool to see how you can say so many different things about people from their bones. I'm also interested in marine biology because I like penguins so much it's not funny. I was thinking of majoring in Spanish because I'm pretty good at it and my family is from Mexico, I was also thinking about welding.
Zoeller is also undecided on a major, but is interested in music and wants to play basketball in college. Kelly also noted Zoeller's creativity and read aloud a sample of the student's writing which he used in Zoeller's letter of recommendation as an example.
"It's kind of that curiosity to learn, I can't stress that enough," Kelly said. "These two, they just dive into things.
"Whatever they do will be great," Kelly said.
When asked if they had any dreams they hoped to achieve, Sattler replied, "I mean, I feel like I've achieved the dream at this point."