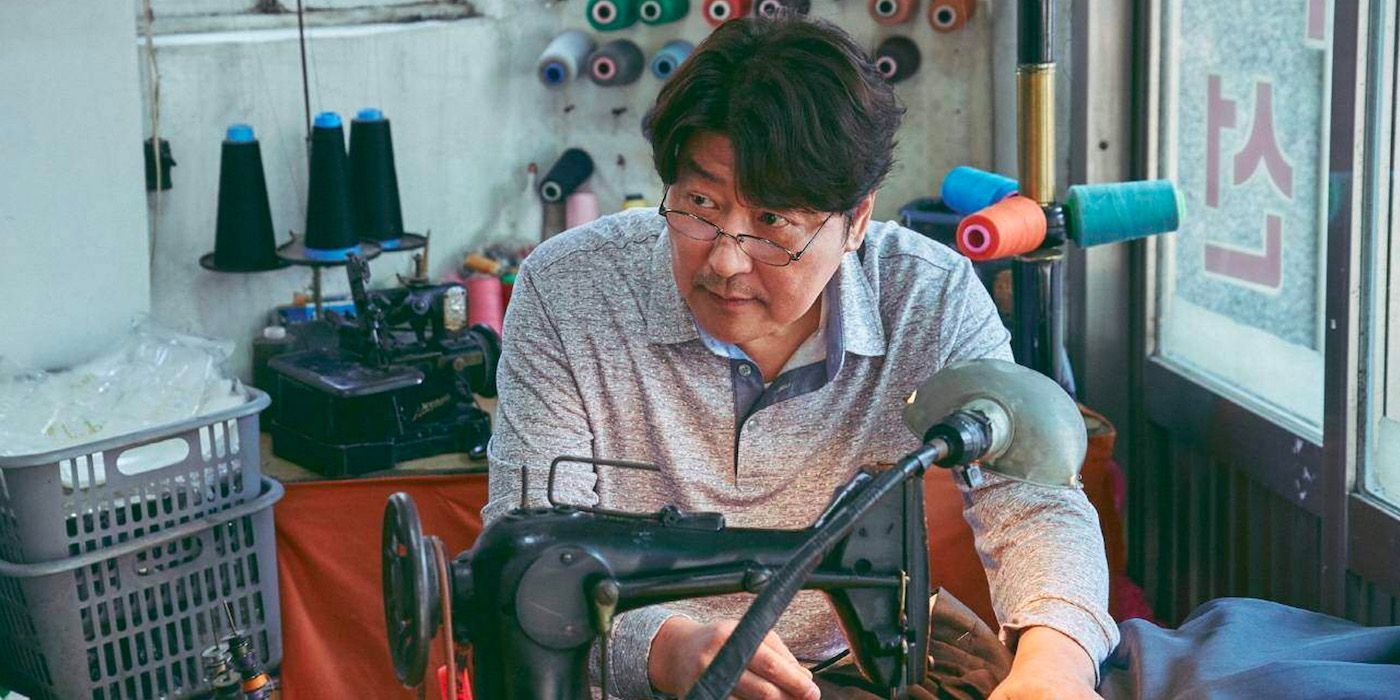 Song Kang-ho shines like a peddler with a heart of gold
The various breathtaking works of the famous writer-director Hirokazu Kore-eda have, quite often, focused on the relationships that develop through families found in a difficult world. In the films he creates, the people are imperfect but fascinating all the same. No matter who they are or how they live, there is an overwhelming feeling of love he has for each of them. His most recent, road trip drama Broker, packs that same sensibility with richly realized characters and a cast that all give outstanding performances. Even when he gets a little lost along the way, the journey we take is both very sweet and terribly sad. There's plenty of deserved humor even as it begins to rip your heart out of your chest, painful piece by piece.
It all starts when So-young (Lee Ji-eun) leaves her child outside a church drop box. She does this under cover of darkness with rain falling all around her. The baby is then taken in by Dong-soo (Gang Dong-won) and Sang-hyeon (Song Kang-ho). However, rather than following a normal process, they are cleaning up the security footage of the woman and her child that is there. You see, the duo are so-called "brokers" who run an illegal business of providing abandoned children to parents for adoption. They do this for whatever fee they can negotiate and seem to have done so for quite some time. When So-young returns to pick up her son, fulfilling the promise she left on a note that she would, they all eventually agree that they will go complete the illicit adoption together. It will be necessary to meet several potential parents and to travel a lot in a van in poor condition.
To complicate matters, unbeknownst to the trio, they are being followed by two police officers who hope to catch them in the act and arrest them. Veteran Ji-Sun (Bae Doona) and his new partner (Lee Joo-young) implement the operation on each additional turn. While the former are much more committed to the accuracy of their work, the latter are increasingly uncertain that this is the right thing to do. He wonders if this could be some trap of some sort that only hurts all parties involved more than they already have. There's also another police investigation surrounding an incident that initially seems alien but will crash into the main narrative. It's all rather loaded, often to the detriment of the film, even if the story soon settles into something sublime.
RELATED: 'Parasite' Star Song Kang-ho Leads the Cast of 'I Saw the Devil' Director Kim Jee-woon 'Cobweb'
At the center of this is Song Kang-ho. Many will know him for his similar work in Parasite, but it is also much more than that. The actor said ahead of the premiere screening at the festival that there's more of himself in this character compared to that previous work and that's undeniably proving to be true the longer it goes on. You can just feel his charisma in every joke he makes or every song he sings to himself while driving along the road. This ensures that, as we see his character's flaws remain at the forefront and some of his most painful pasts resonate in the present, we understand him so deeply that it hurts. Some of the ending scenes it gets are so confident yet devastating that you just sit in awe in the middle of the agony. With a single pained expression or heartbroken hesitation, he shatters the charismatic shell the character has built around himself to protect himself.
Of course, no actor can carry a movie like this alone, and the rest of the cast is simply stunning. Lee Ji-eun starts off her character as being more naturally cautious because, after all, she doesn't know those men who basically kidnapped her child and lied to her face about it. Her justified anger proves just as deep as the quieter moments when she ponders what the best future will be for her child. She was forced into bad situation after bad situation to survive, the last being to make an impossible choice between raising her child herself and giving it to others who might be able to give her a better chance than she. Even when other characters judge her, the movie itself never does because it builds a multi-dimensional portrait of all that she is.
On the other hand, Gang Dong-won whose character was himself left in an orphanage by his own mother and still carries him around all these years later. The film reveals this information not to make excuses for his own actions, but rather to help understand how he got to the person he is now. Each of the characters is one for whom the film overflows with compassion without ever cutting corners by struggling with their rough edges. It can hurt to hold them so close and tight, while kissing them like the movie does.
For all the ways it can get lost in the weeds of less compelling detective stories, eventually reconnecting, the extended scenes without them are all beautiful to behold. An extended conversation on a Ferris wheel takes your breath away as the characters contemplate their future openly and honestly. During a car wash, an unexpected guest on the trip turns the mundane into something magical. The more time we see these characters spend together, the more natural and affectionate it becomes.
It's quite an accomplishment because what they do can be a little off balance, in some ways that seem intentional and others that aren't, before they put everything back together. While there are more than a few quibbles to do with how the ending arranges the pieces together, there is so much dynamic work both behind and in front of the camera. When it all comes together, it turns out to be another poetic and patient cinematic reflection on the families we build for ourselves from one of the finest observers of humanity to ever do so.
Evaluation: B+