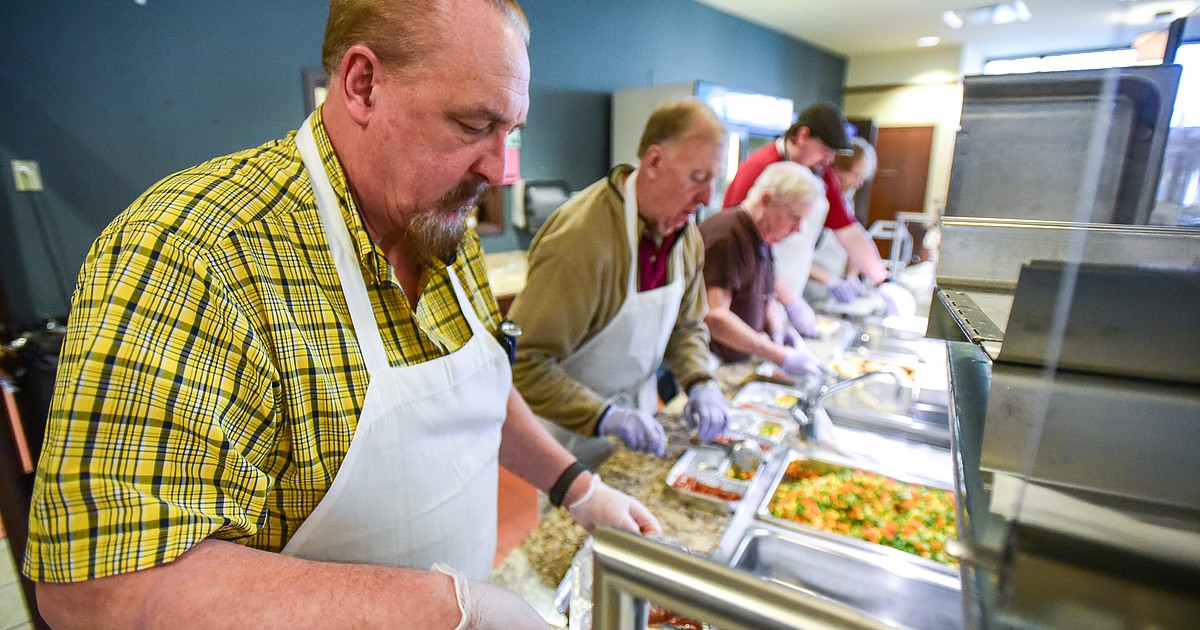 The agency offers a myriad of services to help seniors
The Flathead County Agency on Aging's goal is quite simple: to help seniors with what's important to them.
"The mission is to pay attention to older people and their needs," said Carla Dyment, director of the Agency on Aging. "I believe in respecting and caring for our elders. There is especially work to be done for the most vulnerable seniors in our community.
However, the agency helps seniors and their caregivers through an extensive network of programs and services, information and resources.
According to census data, 20% of Flathead County residents are age 65 and older. By 2030, one in five Americans will be 65 or older, according to the National Association of Area Agencies on Aging.
The focus remains on the sustainability of the agency's programs, such as its Meals on Wheels program, caregiver support, benefits counseling, in-home services, residence resident advocacy -services and nursing homes, the veteran-directed care program, and connecting seniors and their caregivers to community resources.
Dyment points out that the agency offers a wide niche of services and that it plans to continue to do so with the resources it has.
"Government funding is a solid foundation for all of our programs, but as demand and needs increase, we will look for creative ways to expand our resources," she notes.
In March, the agency is expected to participate in a statewide needs assessment that will include surveys and focus groups to assess the changing needs of seniors. Dyment says the survey will provide valuable insight into how to continue to improve services, but the agency also plans to continue to serve a growing older population by seeking creative solutions.
"As the needs grow, we will continue to partner with other organizations, businesses, nonprofits and churches, to team up and combine our strengths," she said. "We all have a role to play."
THE AGENCY on aging stems from the Older Americans Act passed by Congress in 1965 in response to concerns about the lack of community social services for the elderly. It established the states authority for community planning and social services. Although seniors can receive services under many different federal programs, the law is now seen as a major vehicle for delivering services to this group and their caregivers.
In 1987, Montana passed its own version of the law to reaffirm the state's commitment to its older citizens.
"The Legislature believes that older Montanans are a valuable resource of this state and that their skill, experience, and wisdom should be used more effectively for the benefit of all Montanans," the law says.
There are 10 Regional Aging Agencies throughout Montana serving various geographic areas. They operate as private, not-for-profit organizations or, as is the case in Flathead County, as public organizations.
ONE OF the most recognized programs administered here by the agency are the Meals on Wheels program which provides housebound residents with a hot meal delivered by volunteers Monday through Friday. Frozen meals are also offered for the weekend.
Meals are distributed through delivery lanes throughout the county. Through the program, approximately 6,300 meals were delivered during the month of January.
To be eligible for the program, a person must be in need of the service, i.e. they cannot go to one of the dining areas for lunch or to shop and prepare meals, or have a caregiver who can regularly prepare meals for her. .
The program relies heavily on a base of volunteer drivers who distribute the meals. Each weekday, approximately 200 meals are delivered to Kalispell residents through the center, and meals prepared for surrounding communities are distributed through seniors and community centers in Whitefish, Columbia Falls, Bigfork and Lakeside.
Before lunchtime in Kalispell, volunteer drivers gather waiting to pick up prepared meals before setting off on their roads. Some grab a cup of coffee and a donut and chat while they wait.
One volunteer, David Taylor, who delivered meals more than a year ago after retiring, drives several days a week and his journey takes about 45 minutes. In addition to providing a balanced meal to those who need it, drivers should learn from people on their route.
"You really get to know people – it's fun," Taylor said. "They are very grateful and you know you are making their day. You're not supposed to leave the meal without checking them out.
Communal meals served at the Kalispell Senior Center also fall under the agency's nutrition program. On average around 80 meals are served per day in the center dining hall, January with around 2,000 meals served in total for the month.
For people aged 60 and over, meals at the center are offered by donation, but meals are open to all ages. Lunch is served from 11:30 a.m. to 1 p.m.
David Caron recently served as nutrition program manager after serving as the agency's chef. He spent two decades working as a chef serving the elderly after working in an assisted living facility.
"I love the camaraderie of serving seniors, but also making sure their nutritional needs are met," he said. "We would like to see even more people eating with us. We know we are not reaching everyone.
On a tour of the large kitchen designed to cook 2,000 meals a week, Caron says the most popular dish on the menu is roast beef.
"People are often surprised at the quality of the food," he said. "We are very proud of the food. We want to make sure it's something they'll like to eat, because there's no point in providing them with a meal they won't eat.
BEYOND Meals on Wheels program, volunteers also support the agency through other programs like delivering groceries, providing home help services, volunteering in the dining room and kitchen, and more .
Dyment says a growing elderly population also means a growing number of potential volunteers.
"I see it as an opportunity because there are a lot of people who are retired or half or quarter of their careers and want to volunteer," she said. "We have several ways for people to get involved by donating their time or resources to support seniors."
According to the agency, the volunteer program matches skills and interests with support opportunities, creating a partnership between volunteers, staff and clients to help older people in the community.
A TEAM resource specialists at the agency form the focal point of a hub for a number of other programs and resources. Many programs aim to help people stay in their homes, but the other focal point also provides assistance in navigating Medicare and other benefits and also provides advice regarding long-term care. But they also help find accommodation, seek legal and tax assistance, and meet transportation needs.
Resource specialist Sandy License said there are programs that can help anyone, even those who think they might not qualify and often hear from people who didn't know the agency existed.
"Our goal is to help people be as independent as possible," she said. "We want to help them stay in their homes as long as possible. But our goal is to keep them safe and happy and to meet their needs.
"People are often very grateful for help," she added. "We would like more people to know we are here."
To keep people living in their own homes, programs include assistance for those who might need help with light housekeeping, grocery shopping, or getting and transportation, for example to appointments at home. doctor.
For nursing and assisted living facilities, the agency offers an advocacy program that provides an ombudsman to help residents and their families navigate the process. Often a resident will come to the agency with a problem and the ombudsman will mediate to resolve the issues on both sides.
Support for caregivers is another area of ​​intervention of the agency. The agency often sees spouses caring for their loved one, so the goal is to ensure that the carer is also cared for.
Programs include caregiver support groups and information on care navigation.
"Many of our clients who are still at home can be cared for by a full-time caregiver," License said. "We can provide assistance to hire a caregiver or respite services so that there is some rest for the caregiver. »
THE RESOURCE specialists also often refer individuals to outside programs as needed.
"We don't think it's a dead end," Dyment said. "If it's not in our wheelhouse, we'll connect you to who it is. That's part of our value, is to make sure we connect people to the services they need.
Carla Reed, resource specialist, explains that the agency is focused on solving problems.
"These are often small issues, but for the customer it's a big problem, so it's always nice to find a solution," Reed said. "But we appreciate when we can really dig in and have to work to find the answer – and then it's a really good feeling to call and say we've fixed it."
Some supports are not programmed, but are aimed at connecting people to the things they need. When a nursing home was getting rid of a hospital bed, the agency found movers to deliver the bed to a man with reduced mobility who had been limited in what he was able to do, but everything worked out. changed with the bed.
LOOK FOR Looking ahead, Dyment, who recently took over as director of the agency, says one of the areas the agency will explore is providing more cross-generational connections. "We need each other more than ever," she said. "Isolation, depression, anxiety are all things that people struggle with at any age. The more we can connect, learn from each other, enjoy life together and lean on each other at through life's challenges, the stronger we will be.
Managing Editor Heidi Desch can be reached at 758-4421 or [email protected]